UPDATE: Saturday April 11 - The WINNER of the ARC is Barbara Monajem! Everyone who commented HERE and at Cynthiadalba.blogspot.com got three chances. Everyone else was entered one. Winner chosen by Random number generator. Congrats Barbara!

Tuesday April 7, 2009

A couple of weeks ago, Alison Kent tweeted "Anyone want an ARC of NO LIMITS for a blog review?" My little fingers couldn't fly across the keys any faster than they did to answer that tweet! (For those who are unfamiliar with "Tweeting", it's a 140 character post on Twitter). I snagged a copy! Now, at this point, I must confess...I am an Alison Kent Fangirl. I have read her books for a long time. To snag an ARC for a book that comes out in May put in an euphoric high!

Be sure to read to the bottom for a surprise.....

Here is the "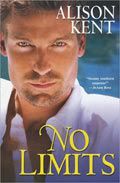 official" book blurb from Amazon:

The Heat is On...

Simon Baptiste's latest SG-5 mission just went south in a major way. It seems like a good time to take care of some business back home in Louisiana. Simon knows it ain't going to be pretty. He's got old enemies in Bayou Allain who won't exactly roll out the red carpet. But Simon's first night back is more than he bargained for. Not only has the homestead gone to hell in a hand basket, but there's a half-naked woman hiding inside it - a woman whose face Simon knows all too well. It's Michelina Ferrer, the sultry spokes-model for her family's Ferrer fragrance empire - and Simon's been staring at her picture on a billboard outside his Manhattan apartment for weeks...

And It's Only Getting Hotter...

Micky Ferrer came down to Bayou Allain looking for her old college friend, only to discover that Lisa Landry has been missing for days. As soon as Micky starts asking questions, someone runs her car off the road. She's hiding out in the old Baptiste place when Simon shows up - and he's the hottest thing she's laid eyes on since she got to town. Simon agrees that something strange is going on and that Lisa's disappearance may be tied to it. As he and Micky search for answers, the sweltering heat makes it hard to keep their heads straight or their hands off each other...even as they unravel the small-town secrets that some people are willing to kill for...

Here's my take on the book:

Simon Baptiste is a well-developed, imperfect hero, suffering from job burn-out, as well as guilt from a job gone bad. He needs a break from his work with the special SG-5 team. No amount of alcohol or conversations with the hot model on the billboard across from his apartment window is helping. He left some unfinished business twenty years ago in Louisiana...an inherited homestead that he's left to a property management company to handle, except none of his renters stays. It's time to sell it and move on with his life. Except selling that homestead will do nothing to resolve his family problems with the man he considered close as a brother...his cousin, Kingdom Trahan. Simon arrives at his Louisiana house to find a partially clothed woman who claims someone just tried to kill her. Interesting that this half-naked woman looks so much like the model from the billboard.

Micky Ferrer, daughter of Edoardo Ettore Ferrer, public face of and spokesmodel for Ferrer Fragrances, has to get out of town FAST...before her father's personal assistant has time to show him the pictures of her dancing sans panties on a tabletop. A long overdue visit to her good friend, Lisa Landry in Louisiana would be the perfect escape, only once Micky arrives in Bayou Allain she finds that Lisa is missing. A few little questions gets her run off the road and into the arms of Simon Baptiste. It's obvious to Simon that Micky could use a little help finding her friend while continuing to stay alive.

Alison does a fantastic job capturing the flavor of the Louisiana bayou. At times, I could hear the Cajun accents as each character acted out his part. I could feel the heat, the sweat. I could smell the aromas she describes. I came to care about the main characters, as well as the secondary character, Kingdom Trahan. (I sincerely hope she has plans for King in another book.) While the "bad guys" were known throughout the book, it didn't distract from the strong story telling. The dialog is realistic. The characters are layered and complex. One of the ways I judge if a book is working for me is when the characters continue to live in my mind even when I'm not reading the book. These characters did that for me.

I read many of Alison Kent's books and they never disappoint. I can, without reservation, recommend NO LIMITS, but only if you like strong, sexy heroes with strong sexy heroines!

One word of warning...This is one of the those books you don't want to put down when you start and one you hate to see end.

Now, the surprise....

This review is posted here and also on Cynderella's Castle. I am giving away a copy of a "gently" read ARC to one lucky person. If you comment here, you have one chance. If you comment on both blogs, you have three chances.

Trust me... You WANT this book!

Now, in the comments, tell me the best romance you've read lately and why that book really did it for you.

Good Luck and Good reading!

To Order NO LIMITS:
Amazon
Barnes and Noble
Books-a-Million