My father passed away last October and the family of six gettin' up there children gathered for his church service at my Mom's house. She was doped up by the doctor because she was a wreck. After a bit they slowly stopped the tranquilizers. My Mom was only on her usual medications, of which there are quite a few.
She started to see my Dad and hear him breathing, feeling his presence on the bed. By morning he'd be gone.
She saw him several times and he rarely looked at her. But she kept talking to him and one time she asked what was wrong and he answered that he didn't know. That was freaky. But my Mom was not scared. She was strangely comforted.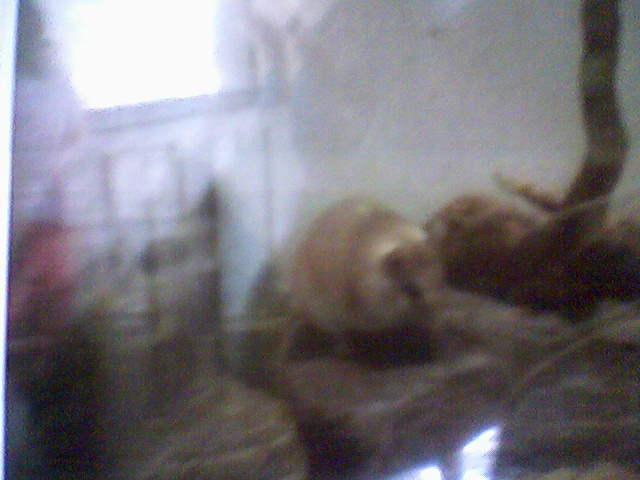 My Mom continued to see and very occasionally hear a word or two from my Dad. He joined her every night to sleep, just like he did in life. She continued to hear him breathe.
I went to visit my mother for about ten days in January. We hit the grocery store where she would smash into people with the electric cart she drove. The beauty parlor where they would curl her see through thin, white, hair, in the same style she'd had for as long as I can remember. We went to a doctor almost every day for some thing or other.
She tuckered me out.
One night I went into her bathroom attached to her bedroom to use her mirror and pluck out granny hairs. And I heard it... Breathing...Slow. Steady. Breathing. I sat us straight and listened. I still heard it, in and out, so I held my breath. It couldn't be! Yes! I still heard breathing!!!
I yelled out, "Mom, who's in here?" No answer. My Mom was in the living room, quite a ways away, when I last saw her.
Still I heard breathing, so I walked out of the bathroom. I looked at the bed. Holy Moley! It looked like it was indented. And I still heard breathing!!!
I ran outta there so fast I'm lucky I didn't break my neck. I flopped down on the sofa and looked at my mother. She asked what was wrong and I told her. She was actually happy! She was vindicated! My sister went into her bedroom and came out as fast as I did. We looked at each other and started laughing. While she did the sound of the theme from Twilight Zone, I shook my head. I couldn't believe it, but there is no way in hell I will ever go into that room again!
A couple of weeks later my Mom stopped seeing my Dad. They'd taken her off of one of her medications, and it just could be a coincidence. It was a disappointment for her, but at the same time she wanted my Dad to find peace where he should be. She still feels that he has not passed on and listens for him every night. But hopes when we put his ashed in the grave in Vermont. That he will be.
Me, I never go in there and I have no desire to. My Dad would surely tell me what I was doing wrong if I went back in there. And I'm still a bit afraid of him. Which he would like hearing.
Strange Huh?
Note-Not pics of my family.